Popular English Podcast Lessons
Improve your English Conversation skills while listening to fun and entertaining English podcast conversations about everyday topics in American English. Learn new vocabulary, hear about American culture and get some great language learning tips in our lessons.
Hurricanes, earthquakes, droughts, and floods have been in the news lately as Mother nature has shown her power with some serious natural disasters. A conversation lesson with great vocabulary and current events. Listen to the Audio Now 
Hear about what it is like to apply for jobs in Canada in this English Conversation from the English podcast. We talk about how you should act, what to say and other interesting facts about job hunting. Listen to this Lesson
In this English Podcast, you will hear about our experiences with forest fires in the region that we live in. What causes them and how they are controlled.  Listen to the MP3 Lesson
How to Learn from English Podcasts
English podcasts are a great way to continue improving your English Conversation skills when you are away from home. They are a fantastic way to practice listening and immerse yourself in the language while you are driving, walking or catching the bus.
The good news is that you can find an ESL English podcast for any level and they teach you different things like grammar, conversational skills, business English or interesting stories.
It can be very helpful to listen and read at the same time. Look for an English podcast with a PDF transcription (a written version of the audio), like this English Podcast lesson which also has a downloadable MP3 file. Look up new words that you don't understand from the audio it will help you to learn even faster and to go deeper with your listening skills to improve faster than ever!
Find the Best English Podcast for Your Level
To help you find the best English Podcast lessons, I've created a list for you that is sorted by the beginner, intermediate and advanced levels.
The beginner lessons will have slow and clear audio that is very easy to understand. It is really important that you understand the audio you are listening to very well to learn as fast as possible.
Intermediate students have a lot of options available for listening to an English Conversation because they are able to understand audio that is natural. There are so many excellent native English speakers that are teachers and they have decided to create a podcast to help ESL learners from around the world to improve their English Conversation skills completely for free.
Advanced students should find podcasts that native speakers listen to for entertainment. You will hear interesting words and phrases that you won't find in your textbooks when you listen to the same podcasts that native speakers listen to.
Intermediate American English Podcasts
Most of the podcasts are perfect for intermediate students. Finally, you are able to understand more of what you hear and these lessons give you a way to practice listening and learn at the same time.
This is a useful list of intermediate podcasts which will give you a mix of grammar and English conversation style listening. All of them are in American English which is the same accent that we teach and speak with on this website.
Remember to find a podcast that is easy for you to understand at your level. You will not learn anything if you cannot understand 60-70% of what you hear. If you need extra help, you may need to do some listening training and build your vocabulary to better understand American English and improve your listening skills.
Advanced English Podcast List
Once you reach the advanced level, you should start listening to audio that native speakers listen to for entertainment. This will help you to learn everyday ways of saying things and cool expressions that are used. Additionally, they are much more interesting than an English audio lesson!
English Phrasal Verbs
Subscribe Here (iTunes | Android | Website)
Phrasal verbs are a huge part of English conversations. They are often the preferred verbs that are used in everyday speech.  To really start sounding like a native speaker… you really have to master these tricky verbs.
Here you will learn English phrasal verbs in context with audio examples. In each lesson, a new phrasal verb is introduced and the meaning is explained. What makes this style of teaching different is that each example uses the phrasal verb and then the example is repeated using an alternative way of saying the English phrasal verb. This will help clarify the meaning if you are still confused.
These lessons are from the English Phrasal Verb Course which includes 250 lessons and 25 stories that use all the phrasal verbs together for quick review and to test your understanding. Try some of the lessons here: 20 Phrasal Lessons and 2 stories for free.
This American Life
Listen to one of the top podcast in the United States that features long story telling audio about very interesting topics. They have won several awards for their audio program and continue to produce new stories regularly.
These podcasts are definitely best suited for an advanced learner to be able to feel comfortable listening to long recordings. The episode that you can listen to below is about one hour long.
So, why is this a great way to improve listening?
In the episodes, they feature interviews with different Americans from all over the country. This will help any language student to be familiar with different accents and ways that Americans speak.
Freakonomics Radio
Another award winning podcast that discusses different topics such as political issues, news, pop culture and other global topics. A great way to hear more detail about different topics and get exposed to new vocabulary while you enjoy listening to the host's explanations of their perspective to make sure you understand it.
Entrepreneur on Fire
This is a fascinating audio program that features interviews with different small business owners about their journeys of success and some tough lessons they have learned along the way. The host is very entertaining to listen to and you won't even realize an hour has passed by as you listen. Hear about business topics such as marketing, starting up a business and different resources you can use if you want to start a business.
This is a great way to get exposed to business English that will be used by entrepreneurs and the different tasks that they need to deal with on a daily basis. Feel comfortable listening to business conversations with this podcast.
List of English Podcasts for Beginners
Beginners need easier lessons that are slow and clear to be able to understand what they are hearing. It is very important that the student picks one with a transcription to help them learn new words.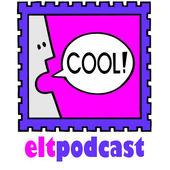 ELT English Podcast for Beginners
This beginner podcast teaches you basic conversations. You will hear a conversation between 2 or more people about a simple topic.
The first time you hear the audio, it will be the speakers talking at a normal speed, although, they are speaking slower than a normal English conversation between 2 native speakers.
After the conversation has played one time, you will hear it again at a slower speed. This will really help you to hear each of the words that they are saying and build your vocabulary.
Listen to a podcast episode here:
Essential English Podcast for Beginners
This podcast focuses on beginner grammar lessons or simple phrases to help beginners to understand the most important structures, verbs and phrases in English.
The audio is very slow and clear. Each lesson allows you to practice repeating the audio that you hear to try to learn how to say and understand things you have learned. Download the audio and read the transcript on their website.
Listen to a podcast episode here:
Listen Better with English Podcasts
These options that we listed above are only a small amount of the fantastic audio programs that you can listen to completely for free anywhere you go. There is no reason why you cannot listen to something that is entertaining as a way of learning English.
A final piece of advice that I will give you is that it is important to listen to audio more than one time if you are not understanding everything perfectly. Transcriptions can be helpful to teach to listen better and increase your level of listening comprehension. Some of the podcasts offer transcriptions for free or to be purchased.
If you have been struggling with understanding English audio as well as you would like to, you should consider listening deeper to improve your listening skills a lot faster than listening to audio only one time.