Special Offer for New Years!
Get your English learning on fast track for 2021!
[Part 1] Set a clear goal for the next 90 days
[Part 2] Navigate the complicated path between intermediate to advanced and beyond to fluency!
[Part 3] Learn a powerful trick to be more consistent
[Part 4] Supercharge your motivation with a 7-day action plan!
Hear My Plan to Get Motivated and Back On-Track 
This year, 2020, has been a very challenging year for many of us including me. Personally, I had very little time to work on my language (Spanish)… And unfortunately, I lost some of my progress and my level has decrease A LOT 🙁
I know many of you are in the same situation and that's why I wanted to create this 4 lessons series to talk about my strategy to get back on track and make quick progress to regain what I have lost of my language skills.
READ & LISTEN: The audio and transcript are available below OR you can watch the video version with subtitles. 
Read & Listen to this Audio - Podcast Transcription is Here
This is the Real English Conversations podcast where you'll find the lessons and advice you need to be able to confidently use your English in the real world. Hey, everybody, this is Amy from RealEnglishConversations.com, and I'm really excited because I'm going to be sharing with you a series of lessons over the next few days that are really going to help you to get motivated and really clear on what your goals will be related to English for the upcoming year. I don't know about you guys, but for me, during the last couple of weeks of December, I always take some time to think about what I want to improve.
[00:48.945]
How did the year before go and where do I want to go in the future, not only with my language learning, but all aspects of my life. But, you know, as I was thinking about what happened in this year, very, very challenging year of 2020, I realized that my goal at the beginning of the year to really actually reach fluency in the language that I'm learning, which is Spanish, really didn't happen. And in fact, I actually lost probably an entire level.
[01:23.655]
And that's something that I wasn't expecting. But right now, I need to look at what I want to do moving forward and how I'm going to do that. And in that process, there are some great pieces of information and strategies that I think you guys can learn from as well. And also to recognize that even people like me, people that know how to learn languages, how to reach fluency, what you need to do to reach that goal sooner by doing efficient activities and all of this stuff.
[01:59.025]
I know all of this information, but at the same time, I'm still a human. I'm just like you. I only have 24 hours in the day. And there's a certain limited amount of focus that I have to work on my language skills at the end of the day. So just to give you a quick preview of what's coming up today, we're going to be talking about this problem with getting stuck or losing your language level over a period of time and how to get started again.
[02:33.135]
The next lesson is going to be about navigating this really difficult period between intermediate advanced and moving on to fluency. The fact is that the majority of courses and lessons online are generally for people that are beginners or maybe pre intermediate learners. But once you get to that intermediate level, you're kind of on your own and you go onto the Internet and you find tons of lessons that are available. But it's very, very unclear about how to get from where you are to that final stage of fluency, especially if this is the first language that you're learning on your own as an adult.
[03:19.185]
It's different when you learn your language as a child versus trying to acquire a new language as an adult. After that, I'm going to be talking about consistency and really explaining the tricks and tips that I have that work really, really well for me to try to stay consistent. And the final piece of this is about motivation and how you can go from having very low motivation to having really high motivation where you are so excited to practice English and learn because you're seeing great results from what you've achieved in a very short period of time.
[03:58.575]
So let's get started with the first obstacle, the first problem that we have after we've taken a little bit of a break or we've kind of been at a plateau, whether we're working on our language and not seeing progress or you're just maintaining your language skills because you're a little bit too busy or maybe like me, where you've seen a big slide backwards in your language level and you need to get started again to relearn what you've already lost. The first thing that we need to do is to really think about why we're doing this.
[04:31.875]
Why are we learning a language? Why did we decide to learn a skill that takes hundreds and hundreds of hours of practice and dedication? What is it going to mean when we speak that language confidently and fluently and we can communicate with other people and for each of us, that's going to be a different thing for me personally. I live in a foreign country. I live in Mexico. I'm originally from Canada, where very few people speak Spanish, at least where I live.
[05:03.735]
And I've decided to relocate to another country where the national language is Spanish and I am going to be here for a long time. So for me, it's very important to. The ability to be comfortable and confident in the language, in social situations so that I can form a network of people here locally and to not get stuck in a group of people that just speak English, because that's the only language that I'm comfortable speaking in. I want to be able to connect with locals, whether they speak English or Spanish, and to be able to make connections in that way.
[05:43.655]
Also, I have found recently that I'm having to do different business related things in Spanish. And this is another challenge that you really want to represent your best self when you're working in English for your job. You don't want it to seem like you're speaking like a five year old because you feel like it affects your your professional image. And for that reason, I also need to really refine and have an excellent level in the language. So let's take a second here and just remind yourself, why are you learning English?
[06:22.485]
What is it going to mean for you if you were to increase your language level by one level or two levels within the next three or six months or maybe just by the end of next year? It doesn't matter what sort of opportunities are going to open up and how are you going to feel about your communication at that point? Taking a second to think about these things is really, really important so that you know why you're doing this, because it is a lot of work.
[06:55.435]
It is a long journey and it's not going to happen overnight. Furthermore, you're going to have obstacles that come up in your life. And we have to really make this language learning thing part of what we do. So just get that clear image again about why you're doing this and think about how many hours per week you're going to be able to commit to doing this. Think about it like exercising. Maybe you exercise three days a week, or maybe you practice meditation to clear your mind every day for 15 minutes.
[07:30.025]
It's the same sort of thing. We're going to make a habit. And this is part of our life because we have to put so many hours into it. It needs to be a habit. It needs to be something that we're doing all the time, because if we don't work on it, we're always going backwards. And I know that that doesn't match with your goal. And the reason why you're doing this. The second part of this exercise is to really envision what sort of result you think you can achieve within the next three months.
[08:02.275]
Maybe you really want to increase your confidence. Maybe you finally want to face your fear of speaking with other people. There are a lot of people that are really, really shy and they want to speak, but they're just too scared to take that first step. Maybe you want to overcome that problem within the next three months. Maybe it's just, general speaking, fluency or trying to understand more of the movies and TV shows that you watch on TV without needing those subtitles.
[08:34.615]
Just think about what you personally want to achieve within the next three months, just to give you an example to work with, because I know it can be difficult to think, ooooh, what can I achieve within three months? In my case, what I want to focus on is really using more of the vocabulary that I already know in my own speaking. I don't want to be stuck in such a limited vocabulary where I speak in a very simple way.
[09:03.475]
I know a lot of vocabulary. When I listen, I can understand almost everything that I hear. So now I need to really focus on trying to introduce that type of vocabulary and those phrases into my speaking. And I'm just going to really do activities that challenge me to speak about things in more detail and recognize the words that I can't remember and just do some speaking exercises following my own advice and my own methods. And don't worry too much if you're not entirely sure how you're going to achieve that outcome over the next few days, I'm going to have some ideas and some tips that might give you the answers to what you're looking for.
[09:45.475]
But for right now, I just really want you to focus on what you think you might be able to achieve within the next three months. Don't set the goal super high. Remember, you're going to kind of focus on one thing, really work at it, or maybe a couple of things. But you want to have some sort of outcome that you can see the results of this is really important. So that's it for the first day. We're just really focusing on where we're going, what we want to achieve, making sure that we're setting a realistic plan over the next year.
[10:23.875]
And more specifically, what do we want to accomplish within the next three months? Because when we look at one year in advance, we have these big ideas and dreams. But if we look at three months, we can come up with something that seems like a short term strategy. And it's probably going to focus on the most important thing that you want to improve. So your homework for today is to really think about that as soon as this podcast is over.
[10:52.495]
Do not skip this step. And for tomorrow's lesson, I'm going to be talking about navigating this really confusing and difficult stage between intermediate advanced and continuing on to fluency personally. This is an area where I was stuck for a very, very long time. I was at the pre intermediate level trying to jump up to intermediate and I was stuck here for years. And I don't want you to make the same mistake. It's so much effort, it's so much frustration to be stuck there and doing things in a very inefficient way just because you don't know what to do.
[11:35.335]
So we're going to be talking about that tomorrow, helping you to have a clear plan and know how to move forward through that process. If you're super motivated right now and you're like, man, I like Amy, she's a great teacher, I would like to know more about her lessons and how I can learn. I want you to head over to our website at realenglishconversations.com and register as a Free Member. This is the easiest thing that you can do.
[12:05.835]
Just register as a free member, log in, do a couple of our online lessons that we have available and just sort of check it out. But tomorrow, I'll be back with that great lesson that I'm so excited to talk to you about. And I hope that you have a great rest of the day.
Learn with Us! Did you know that we have English Courses with online courses, live one-to-one lessons with teachers, speaking practice groups, and so much more. Learn more about our Fluency Programs Here
Watch the Video Version Here
Activate the subtitles to listen and read this lesson.
Get Started with Trial Lesson
Take the first step to speaking with confidence and better fluency by meeting with one of our teachers!
Meet Your Teacher
And explain where you need some help
Do a Fun Activity
And see what our lessons are like
Continue with Confidence
After you hear your teacher's plan to get you to your goals!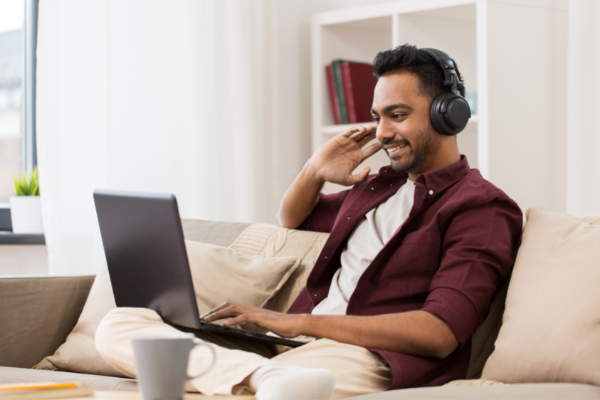 Get Started with Trial Lesson
Take the first step to speaking with confidence and better fluency by meeting with one of our teachers!
Meet Your Teacher
And explain where you need some help
Do a Short Activity
Your teacher will adjust the lesson to your needs
Continue with Confidence
After you hear your teacher's plan to get you to your goals!
Meet Teacher Paula
One of Paula's specialities is Business English. She has helped many of our students prepare for job interviews, practice presentations, and clearly communicate their ideas. Paula can also help you improve your pronunciation, she teaches advanced listening skills, and even IELTS.
Expert in Business English
Listening Skills to Understand Different Accents
Speaking Fluency & Confidence
Use better vocabulary in your answer and express your ideas smoothly. 
Meet Teacher Curtis
Whether you need to improve your speaking fluency, sharpen your listening skills, or build your confidence, Curtis can help you see results within your first few lessons. Curtis' speciality is helping students with pronunciation and to sound more natural when they speak in English.
Expert in Speaking Fluency
A Proven System for Building Confidence
Listening Skill Development
English for Professionals
Job interviews, presentations, customer service, sales, participating in meetings
I felt confident, focused and present in the job interview which allowed me to get my dream job as a business consultant. Thanks for the excellent preparation! I couldn't have done it without your help!
Eli Santos - Business Consultant

Living in Canada (from Brazil)
For years, I was terrified to speak English. After only a few lessons, I started to feel more confident and felt free to speak my thoughts. Now, I can finally speak without fear and I feel like myself in English!
Amara - University Student

Living in the USA (from Puerto Rico)
I could not understand native speaker clients for my job and it was embarrassing. My teacher helped me to improve my listening very quickly. Now I feel confident to speak up in meetings and make phone calls.
Lili - Accountant

From Hong Kong
Schedule Your Trial Lesson with Curtis!
The times showing are already adjusted to YOUR local time zone 🙂
Schedule a Lesson with Paula Runnals
Frequently Asked Questions:
How do I join the lesson?
We use a video calling platform like Zoom or Skype. Once you schedule your lessons, you will receive an email with instructions to connect with your teacher. 
Are the teachers available in my time zone?
Our teachers are located in different time zones around the world with a wide range of lesson times. There are suitable times for students from Asia, Europe, North and South America.
To see the teacher's availability, just click the 'book a lesson' button, set your time zone, and click on the different dates to see the times available.
Note: Our teachers have many students that book with them. Be sure to check the calendar for 1-2 weeks in the future to have a better idea of their availability in your time zone.
Are the Teachers native speakers?
Yes, all of our teachers are native English speakers that are experienced with teaching adult learners that want to improve their speaking fluency, listening skills and sound more natural when they speak. 
How do I schedule a trial lesson?
Watch this video for step-by-step instructions:
What can I expect in the lesson?
First Lesson (Trial Lesson):
Start of the lesson: You will explain your goals and learning challenges. At the same time, your teacher will evaluate your communication abilities.
Next the teacher will choose a small activity that is perfect for your level and focuses on the skills you want to improve.
Lastly, the teacher will talk to you about their recommendations to continue learning and how they plan to help you in your personalized course.