Special Offer for New Years!
Be More Consistent with this Powerful Trick!
Being consistent is one of the easiest things you can do to see faster progress with your English. Unfortunately, this 'easy' idea, is pretty challenging to make into a strong habit.
In this lesson, I'll talk about a powerful idea that will help you to be more consistent and reach your goals without feeling disappointed in yourself OR disappointing other people.
If you haven't listened to part 1 or part 2, I recommend going back to listen to those 2 lessons first 🙂
Part 2: Navigating the Path to Fluency
Part 3: Getting in the Habit of Being Consistent [this lesson!]
Part 4: Breaking out of Low-Motivation with this 7-Day Plan!
Read & Listen to this Audio - Podcast Transcription is Here
This is the Real English Conversations podcast where you'll find the lessons and advice you need to be able to confidently use your English in the real world. Hi, everybody, this is Amy from realenglishconversations.com. And today I have another lesson for you. We're going to be talking about consistency and how we can use consistent learning to really help us to reach our goals sooner, but with consistency. This is one of the easiest ways to see faster progress in an easier way, honestly.
[00:42.495]
But it's also a very, very challenging habit to develop. So even though it's easy, it's kind of hard. And that's why we're going to be talking about this today. Just to remind you quickly, we are in the middle of a four part podcast series and this is lesson three. So if you have not listened to lesson one and lesson two, I strongly recommend going back and listening to those before starting this lesson. It's going to make a lot more sense what we're talking about today in lesson one, I was talking about restarting your English, learning whether you've been stuck or maybe you've lost some of your language level.
[01:24.045]
We'll be discussing that topic and how to get started again. And the lesson yesterday was about how to navigate this process, this path to fluency, we could say between intermediate to advanced and beyond to fluency. This is a really complicated part of learning a language. And the advice that we receive comes from everywhere. And it's easy to get lost and confused and stuck at a certain level with a certain problem for a long time. So I have some really valuable tips that can help to get you unstuck.
[02:02.565]
So make sure you listen to that one. So let's get started with today's lesson. One of the biggest problems that students face, especially when they're trying to learn a language on their own. And by that, I mean that you're not attending a school or a specific course with assignments that a teacher is giving you that you need to complete by a certain time when you're studying on your own. Let's face it, you're alone. No one else knows what you're doing or what your goals are.
[02:33.615]
They don't even know if you're studying. And that makes it extremely easy to skip a day or two or ten and tell yourself that it really doesn't matter if you miss a day because reaching fluency is going to take several months or even years. So missing a day or two doesn't really matter too much. And trust me when I say I know this way of thinking, because even though I teach people how to be consistent and work with them constantly to help find a plan that's going to work with them in their life, this is something that every student struggles with, including myself.
[03:12.195]
And I'm going to explain the consequence of that. When we look at what happened to me, specifically the language expert in this year in 2020. So there is one thing that I commit to, and it is taking lessons with a teacher twice per week. And I've been able to maintain this for most of the year. I've missed a few days every now and then, but I really try to show up, at least for my two lessons per week so that I can practice.
[03:43.185]
And what happened there was at least I practiced a little bit, but because I wasn't practicing more days than I was, it led to me losing my language level. I had went down an entire level over the past year, probably going from a C2 level, which is upper advanced down to a C1 level. And I'm of course disappointed about that. But I know exactly how it happened. I was so busy I wasn't able to do anything else between my lessons.
[04:18.375]
The only thing I could do to just try to maintain a little bit of my level was to show up to these two lessons per week. And the result of that was having a gradual movement backwards with my communication. And now I know that I'm going to have to be more committed and more consistent if I want to see that progress coming back again. So although it's easy to say, oh, it's just one day, it's just today, it's just one week, I'll just show up and do this one little thing here and this one little thing there.
[04:53.535]
If you do that too often, you can actually have a very, very big loss over a period of time. And I don't want that to happen to you. So let me give you my top tip. The thing that motivates me to be consistent and to study even when I don't feel like it. And this is something that you can definitely use to try to be more. Consistent with your own study, the solution is have another person involved in your learning, OK, as you noticed, I showed up every single week, two lessons a week, regardless of how busy I was.
[05:33.615]
The only thing that's different between me having a lesson with a teacher and me spending one hour to study something on my own is that one of them is done alone and the other one is done with another person. And if we look at that, it really shows the power of working with another person, because if we don't show up to that lesson, we are going to be letting that person down. They're going to be disappointed. And this is really what drives us to do things that we don't want to do, especially when another person is involved.
[06:11.535]
This is a classic example of people that want to start an exercise habit. It's good to have somebody that can be your gym buddy. You know, when you need to go to the gym, they give you a call. You're going to be at their house at six o'clock. And whether you want to go or not, you put on your shoes, you put on your exercise clothes and you grab your bottle of water and you go to the gym.
[06:35.655]
Why? Because your friend is showing up. And if you're not there and you're not ready, that's going to be really disappointing for your friend and a little bit annoying. So you don't want that person to feel that way. These emotions and the responsibility that we feel to make other people happy and to stick to our commitment is something that we can use to help us with our language learning as well. I have an exercise that's really going to help make this clear for you and to see how much of a difference it can make when you have somebody else involved in your learning.
[07:16.845]
Could you imagine if there was someone else that was part of your English fluency journey, somebody that cared about you and your goals as much as you do? And they notice when you aren't studying or practicing as much as you said that you wanted to, maybe you told them you wanted to study three or four hours a week, five days a week, something like that. And when they sent you a message saying, hey, how's it going? You have to say, I didn't get to it.
[07:50.655]
It was a busy week or yeah, I did it right. But you have to make that decision. And one of those answers feels really good. And one of those answers makes you feel a little bit bad and makes you think, oh, I really need to get serious here and to try to be more consistent with my studying. I know that I'm doing this for myself and I really appreciate the energy that this other person is putting into me because they care about me.
[08:16.995]
They're making sure that I'm staying on track. I don't want to let them down. That's going to give you that motivation to at least try to get back on track. Let me just tell you something. You know, that situation that I just described where somebody checks in on you, this is exactly what I do with my students that are in my fluency programs. Why? Because I care. I care about you. I care about your goals.
[08:49.005]
I care about the reason why you're learning English because this is important to you. And I know that when you sign up to learn with me, it's because you believe that I can help you to get to your goals. Let me give you an example of what happened this month. During December, we have a program called the Stay on track goal-setting program. And this is a form that you fill out at the beginning of the month and you say how many days and how many hours you want to study each week.
[09:22.725]
Two weeks later, I'm going to send out an email asking you how things are going and you're either going to respond with, yeah, everything is on track, all good or you're going to respond saying, no, not really. It's been busy at work or some other excuse or you're going to completely ignore the email from me. And to your surprise, you will find one week later when I get a reminder to check and see if you sent me a reply.
[09:53.295]
And I see that you have not responded yet. I am probably going to send you a voice message to ask you how things are going. And this isn't something like you're in trouble for not sticking to your goal. But the message that I'm going to send you is going to be something like this. Hey, I sent you an email last week. Asking if you needed to update your goals, I didn't receive a reply from you. Is everything going OK?
[10:22.185]
Have you been able to study the three or four hours a week that you wanted to? Because I know how important this is for you to continue to make progress with your English. If not, send me a message back. Let me know what you're stuck on and I'll try to help you to get back on track. I want you to think about that for a moment. How motivating would that be for you? Would that be enough to get you back into action?
[10:48.735]
Or if you really didn't know how to find more time, would you ask for help, especially if someone is there ready to give you the assistance that you need? Honestly, this is something that is huge. And every single one of the people that is in our fluency program that has received a message like this has been very, very grateful because they recognize that, yes, this is something that I want to do. Yes, I need to find time to do this.
[11:17.595]
Thank you so much for sending me the message. And it has given them that motivation and that focus to get back on track really, really quickly. This is something that is really unique. It's something that I really don't think any other websites are doing. Maybe they are, but it's very, very uncommon to have somebody who joins your program as a student that isn't forgotten about. You're not just a student to us. You're somebody who's learning with us.
[11:49.185]
And we're going to notice if you're a little bit off track, this doesn't mean that we're going to do the learning for you. You're still going to have to do your part. You're going to have to be committed. You're going to have to do the exercises. You're going to have to practice. If you want to see the progress, you're going to have to practice. But we're here to give you that support and consistency that you need in that moment where you need it the most.
[12:15.525]
On that note, I just wanted to mention one more time that we do have our New Year's offer running right now. If you missed the news yesterday, this is something that's going to give you unlimited access to language coaching from me, you and I. Together, we're going to work through every one of the major obstacles that you're facing right now to help you get to the next level. Whether you want to work on something, maybe with feeling shy when you speak or low confidence or you want to work on a specific skill, like being able to listen to movies and TV shows without needing to rely on the subtitles, whatever it is that you really want to see big progress with over the next three months, I'm going to work with you, give you activities that you need to complete and specific advice to keep you on track.
View the Special Offer for New Year's!
[13:12.795]
And you're going to be part of our premium fluency programs. And this means that we are also going to be helping you to set goals to be consistent and check in on you. Just like I talked about today, it's very important to know that we have very limited spaces available for this special offer. We only have 20 spaces available and once it's full, it's full. We can't continue to accept new students because really I only have a certain amount of time in my schedule for the students that are joining the program.
[13:50.835]
So if you want to get in on this, if it sounds like something that's perfect for you, you really want to break through some barriers and get to that next level within the next three months with your language learning, don't hesitate, sign up, get into this program while there are spaces available. If you have any questions about anything, just send me an email contact at realenglishconversations.com and I'll try to give you some extra information.
[14:18.615]
But we have all of the information, all of the questions you might have about the program there on the page. So if it sounds good to you, go ahead, sign up. And I'm really, really looking forward to working with you in the program. You'll be able to find the link to that special offer in the podcast notes or by coming directly to our website at realenglishconversations.com for tomorrow's lesson, we're going to be talking about low motivation and some specific strategies that you can follow to pull yourself out of these low motivation moments.
[14:55.545]
It's actually really easy and it works very well. So be sure to tune in tomorrow for the next lesson that we have. And I hope that you enjoy the rest of your day.
Watch the Video Version Here
Activate the subtitles to listen and read this lesson.
What Stops Your from Being Consisten with Your English Practice? 
After listening to this lesson, leave a comment below explaining why it is difficult for you to study English consistently. This is something that should be 'easy' but we are all super busy and it's easy to miss a few days. 
We answer every comment that our students leave us. If we can help you, we will!
Get Started with Trial Lesson
Take the first step to speaking with confidence and better fluency by meeting with one of our teachers!
Meet Your Teacher
And explain where you need some help
Do a Fun Activity
And see what our lessons are like
Continue with Confidence
After you hear your teacher's plan to get you to your goals!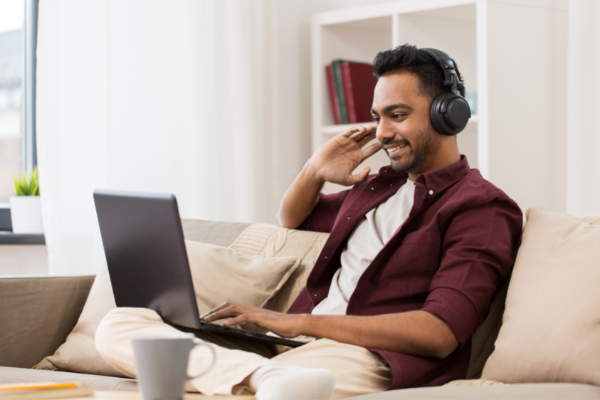 Get Started with Trial Lesson
Take the first step to speaking with confidence and better fluency by meeting with one of our teachers!
Meet Your Teacher
And explain where you need some help
Do a Short Activity
Your teacher will adjust the lesson to your needs
Continue with Confidence
After you hear your teacher's plan to get you to your goals!
Meet Teacher Paula
One of Paula's specialities is Business English. She has helped many of our students prepare for job interviews, practice presentations, and clearly communicate their ideas. Paula can also help you improve your pronunciation, she teaches advanced listening skills, and even IELTS.
Expert in Business English
Listening Skills to Understand Different Accents
Speaking Fluency & Confidence
Use better vocabulary in your answer and express your ideas smoothly. 
Meet Teacher Curtis
Whether you need to improve your speaking fluency, sharpen your listening skills, or build your confidence, Curtis can help you see results within your first few lessons. Curtis' speciality is helping students with pronunciation and to sound more natural when they speak in English.
Expert in Speaking Fluency
A Proven System for Building Confidence
Listening Skill Development
English for Professionals
Job interviews, presentations, customer service, sales, participating in meetings
I felt confident, focused and present in the job interview which allowed me to get my dream job as a business consultant. Thanks for the excellent preparation! I couldn't have done it without your help!
Eli Santos - Business Consultant

Living in Canada (from Brazil)
For years, I was terrified to speak English. After only a few lessons, I started to feel more confident and felt free to speak my thoughts. Now, I can finally speak without fear and I feel like myself in English!
Amara - University Student

Living in the USA (from Puerto Rico)
I could not understand native speaker clients for my job and it was embarrassing. My teacher helped me to improve my listening very quickly. Now I feel confident to speak up in meetings and make phone calls.
Lili - Accountant

From Hong Kong
Schedule Your Trial Lesson with Curtis!
The times showing are already adjusted to YOUR local time zone 🙂
Schedule a Lesson with Paula Runnals
Frequently Asked Questions:
How do I join the lesson?
We use a video calling platform like Zoom or Skype. Once you schedule your lessons, you will receive an email with instructions to connect with your teacher. 
Are the teachers available in my time zone?
Our teachers are located in different time zones around the world with a wide range of lesson times. There are suitable times for students from Asia, Europe, North and South America.
To see the teacher's availability, just click the 'book a lesson' button, set your time zone, and click on the different dates to see the times available.
Note: Our teachers have many students that book with them. Be sure to check the calendar for 1-2 weeks in the future to have a better idea of their availability in your time zone.
Are the Teachers native speakers?
Yes, all of our teachers are native English speakers that are experienced with teaching adult learners that want to improve their speaking fluency, listening skills and sound more natural when they speak. 
How do I schedule a trial lesson?
Watch this video for step-by-step instructions:
What can I expect in the lesson?
First Lesson (Trial Lesson):
Start of the lesson: You will explain your goals and learning challenges. At the same time, your teacher will evaluate your communication abilities.
Next the teacher will choose a small activity that is perfect for your level and focuses on the skills you want to improve.
Lastly, the teacher will talk to you about their recommendations to continue learning and how they plan to help you in your personalized course.