Phrasal Verb Story Lesson 1-10
Download Lesson Notes Download MP3
Instructions:
Read the story using the transcription below. Try to understand the meaning of the story and remember the meaning from each lesson.
Once you know the story and understand it, try listening to the audio while reading the transcription.
When you feel confused, stop the audio, read the transcription and take the time you need to think about the meaning.
Repeat these steps until you can listen to the audio and understand the phrasal verbs being used in the story 🙂
Study Tip:
If you feel like it is difficult to understand the story, focus on the alternative meaning of the phrasal verb. Once you can understand everything, try to replace the 'alternative meaning' with the phrasal verb.
Phrasal Verb Story
Last year we decided to take 6 weeks off (time away from work) of work so we could to travel to Ecuador. After 3 flights we had finally arrived in Ecuador but had to stay in a hotel overnight. In the morning we had to take off (leave) from our hotel at 9AM so that we had enough time to go through security and get our tickets before our plane took off (left the ground) at noon to reach our final destination on the coast.
Once we were in the air, high above the mountains, the plane started to make a strange noise. It sounded like one of the engines was acting up (having a technical problem). We were hoping nothing as going to go wrong but I was definitely thinking that the mechanics should track down (find) the source of the noise; because the entire flight I was thinking over (think about) all of the horrible things that might happen if there was a problem with the engine of the airplane.
About halfway through the flight I decided to take off (remove) my jacket and use it as a pillow against the side of the airplane because I was feeling run down (low on energy) after so much time travelling. Just as I was about to fall asleep, a little girl started to act up (misbehave) and was crying. Although I'm complaining about the flight and the plane, I'm not trying to run down (talking badly) the airline. The staff were really friendly and after all, we did arrive safely to our destination.
Lesson Contents:
Get 260 More Lessons in the Phrasal Verb Course here!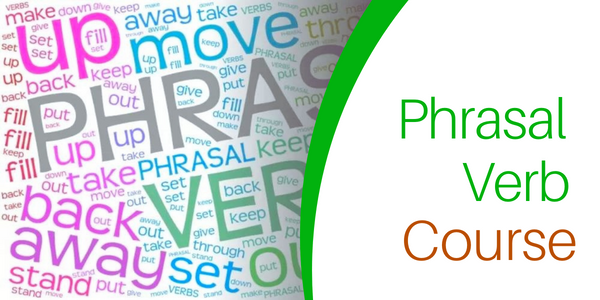 Meet Teacher Curtis
Whether you need to improve your speaking fluency, sharpen your listening skills, or build your confidence, Curtis can help you see results within your first few lessons. Curtis' speciality is helping students with pronunciation and to sound more natural when they speak in English.
Expert in Speaking Fluency
A Proven System for Building Confidence
Listening Skill Development
English for Professionals
Job interviews, presentations, customer service, sales, participating in meetings
Schedule Your Trial Lesson with Curtis!
The times showing are already adjusted to YOUR local time zone 🙂
I felt confident, focused and present in the job interview which allowed me to get my dream job as a business consultant. Thanks for the excellent preparation! I couldn't have done it without your help!
Eli Santos - Business Consultant

Living in Canada (from Brazil)
For years, I was terrified to speak English. After only a few lessons, I started to feel more confident and felt free to speak my thoughts. Now, I can finally speak without fear and I feel like myself in English!
Amara - University Student

Living in the USA (from Puerto Rico)
I could not understand native speaker clients for my job and it was embarrassing. My teacher helped me to improve my listening very quickly. Now I feel confident to speak up in meetings and make phone calls.
Lili - Accountant

From Hong Kong
Frequently Asked Questions:
How do I join the lesson?
We use a video calling platform like Zoom or Skype. Once you schedule your lessons, you will receive an email with instructions to connect with your teacher. 
Are the teachers available in my time zone?
Our teachers are located in different time zones around the world with a wide range of lesson times. There are suitable times for students from Asia, Europe, North and South America.
To see the teacher's availability, just click the 'book a lesson' button, set your time zone, and click on the different dates to see the times available.
Note: Our teachers have many students that book with them. Be sure to check the calendar for 1-2 weeks in the future to have a better idea of their availability in your time zone.
Are the Teachers native speakers?
Yes, all of our teachers are native English speakers that are experienced with teaching adult learners that want to improve their speaking fluency, listening skills and sound more natural when they speak. 
How do I schedule a trial lesson?
Watch this video for step-by-step instructions:
What can I expect in the lesson?
First Lesson (Trial Lesson):
Start of the lesson: You will explain your goals and learning challenges. At the same time, your teacher will evaluate your communication abilities.
Next the teacher will choose a small activity that is perfect for your level and focuses on the skills you want to improve.
Lastly, the teacher will talk to you about their recommendations to continue learning and how they plan to help you in your personalized course.